The focus of dental hygiene is to maintain healthy gums and teeth.
The focus of dental hygiene is to maintain healthy gums
and teeth.
Periodontics generally begins with an assessment and evaluation of a patient's gum tissue (known as periodontal tissue). It can be assisted in the surgery by the removal of plaque, calculus (tartar) and general staining, as well as the application of decay-preventing agents as required. And it is best maintained at home by means of a dental care routine specifically designed by your general dentist or dental hygienist.
However, there are some circumstances in which a patient may require additional advanced periodontal treatment, known as periodontics.
Periodontics is the field of dentistry that encompasses implant surgery, bone grafts, gum lifts, and treatment of gingivitis and periodontal disease (gum disease).
The purpose of implant surgery is to replace missing teeth or teeth that cannot be saved by conventional means. Implants range from single-tooth replacement to a complete upper and lower arch replacement. Bone grafting, or bone augmentation, involves the insertion of synthetic filler bone to encourage growth of the natural bone around it. A gum lift is a cosmetic lifting of the gum line of the front six teeth, these days done using laser – a quick, effective and virtually painless procedure that does not require stitches and heals well.
Specialist Qualifications
To qualify as a registered specialist periodontist in Australia, practitioners must first have the same degree as a general dentist, with honours. They then study for a further three to four years for a Masters degree or equivalent specific training, making them eligible to apply for registration with the Dental Board of Australia as a specialist periodontist.
Our periodontists often work in seamless collaboration with our specialist prosthodontists in cases that require restoration of the teeth using crowns, veneers, bridges, implants, dentures or any combination of these.
Our periodontists are registered specialist; you can always check on the website of the Australian Health Practitioner Regulation Agency (AHPRA) to confirm.
Our periodontic team comprises our registered specialist periodontist Dr Rory Nolan, and Dr James van den Berg (practice restricted to implants and periodontal care).
You don't need a referral to see our periodontists. Please call us on (03) 9650 2726 to discuss your needs and make an appointment. We look forward to being of service to you.
Dental Implants – Smile Solutions Melbourne
Meet our Periodontists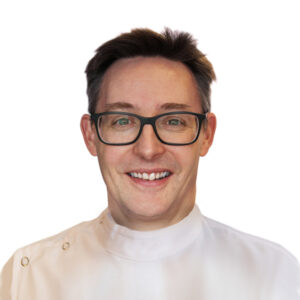 Dr James van den Berg
BDSc (Birm), MClinDent (Lond), PGDipCD (Melb), MRACDS (Perio)
Dr James van den Berg graduated from Birmingham Dental School in 1993 with a Bachelor of Dental Surgery. Over the next four years he worked in general practice, where he developed a growing interest in periodontics.
In 1999 he obtained his Master of Clinical Dentistry (in the field of periodontics) from the Royal London Dental Hospital and then worked in private practice, and lectured at the Royal London Dental Hospital, in the field of periodontics.
After emigrating to Australia in 2001 Dr van den Berg worked in private practice limited to the field of periodontics and implant placement, as well as lecturing at the Royal Melbourne Dental School. He has lectured within a number of implant surgical courses as well as in the use of lasers in surgical periodontal care, a special interest of his. He also has a special interest in the treatment of peri-implants.
In 2013 Dr van den Berg obtained a post-graduate Diploma in Clinical Dentistry in the field of periodontics from the University of Melbourne and in 2013 he was invited to become a member of the Royal Australasian College of Dental Surgeons in the specialist field of periodontics.
Dr van den Berg is registered with the Dental Board of Australia as a specialist periodontist. He is a member of the Australian Dental Association, the Australian Periodontal Society, the Australian Osseointegration Society and the British Society of Periodontology.
---
Dr Melinda Newnham
BDSc (W.A.) FRACDS DCD (Perio) FRACDS (Perio) FADI
Melinda completed her undergraduate dental training at the University of Western Australia in 1995, specialist training in periodontics in Melbourne (2006), was awarded the ANZAP medallion in 2007 and gained fellowship to the Academy of Dentistry International in 2017.
Melinda has been in private periodontal practice for 15 years, is the consultant periodontist at the Alfred Hospital and holds teaching positions at the University of Melbourne and La Trobe University, Bendigo. Being a periodontist in both public hospital and private practice settings has provided valuable opportunities for Melinda to explore her interests in the periodontal rehabilitation of medically compromised patients, soft tissue and dental implant aesthetics and the management of peri-implantitis.